The Jackson Purchase Resource Conservation and Development Foundation, Inc. serves as the fiscal agent for
Four Rivers Watershed Watch
Four Rivers Watershed Watch is a group a volunteers that conduct stream quality surveys on streams, rivers, and lakes in the Four Rivers Region of Kentucky. We encourage all individuals to know about their waterways, since the condition of our streams and rivers is an indicator of the health of our water and communities. Through our efforts, we provide citizens with the training necessary to scientifically explore and provide a snapshot of their own stream quality. The data collected by our volunteers is used to help develop plans to enhance the streams for fishing, swimming, wildlife habitat and drinking water supply.
The Four Rivers Region includes the parts of the Lower Cumberland River basin, Lower Ohio River Basin, the Tennessee River Basin and the Mississippi River Basin in the following counties:
Kentucky Counties: Ballard, Caldwell, Calloway, Carlisle, Christian, Crittenden, Fulton, Graves, Hickman, Livingston, Logan, Lyon, Marshall, McCracken, Simpson, Trigg, and Todd
Tennessee Counties: Henry, Stewart, Montgomery and Robertson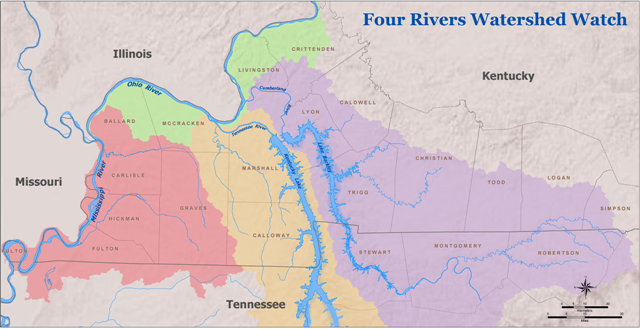 Thanks to our 2019 sponsors: the City of Murray, Sirloin Stockade, Panera Bread, Los Portales, and the Tennessee Valley Authority!
Click Here for our new Resources page to find presentations and report cards
Click Here for our 2019 Schedule of Events (pdf)
Click Here for our Brochure (pdf)
Click Here to Sponsor Four Rivers Watershed Watch (pdf)
---
Champions for clean water in the Four Rivers Region:
Air Products and Chemicals, Inc.
Aurora Barbeque, Aurora, Kentucky
Calloway County Fiscal Court
City of Murray
City of Paducah
Community Foundation of West Kentucky
Dottie and Tracey Slemmer
Early American Motel, Aurora, Kentucky
George Kipphut
Gordon and Tammy Sanders
Karla Johnston
Kentucky Division of Water
MSU Watershed Studies Institute

MSU Hancock Biological Station

MSU Mid America Remote Sensing Center

MSU Center for Environmental Education
Murray Woman's Club

Portage, Inc.
Princeton Water & Sewer Commission
Ray Smith

Sekisui Specialty Chemicals, LLC
Sirloin Stockade
Tennesseee Valley Authority
Tommy and Joan Hendrix
US Enrichment Corporation
Virginia Environmental Endowment
---
Join in our efforts to educate water users in our region and monitor our water quality.
Click Here to make fully tax deductible donations.
There are many ways to donate Cash, of course, stocks, personal property, art, land, and much more, give us a call.
270-908-4545